Wednesday, 26 April 2017
Our dearest association is already 10 years old.
10 years of exploring new realities.
10 years of putting education first.
10 years of life changing projects.
10 years of new starts.
This is why we give!
None of what has been achieved would have been possible without the support of our many donors.
Thank you Martin, Marc, Alexandre, Mathieu, Boris, Jeanne-Julie, Marcos, Yves, Sandrine, Andres, Gonzalo, Tere, Carsy, Alferdo, Sylvia, Eze, Pia, Sabine, Patrick, Laurie, Vincent, Maria, Marc, Alain, Torsten, Bianca, Capucine, Anne, Daniel, Hervé, Damien, Peter, Lionel, Dafne, Matthias, Carolina, Irène, Cécile, Margaux, Elisa, Elena, Mathieu, Fernando, Carlos, Naga, Patrick, Nadia, Corinne, Marcos, Agnès, Baptiste, Cédric, Sylvain, Adèle, Joseph, Karin, Sandro, Benedict, Fanny, Gérard, Helmut, Sepp, Maia, Tina, Olivier, Brigit, Gary, Astrid, Antoine, Philippe, Matthias, Gaby, Alex, Francesco, Cesare, Alessandro, Orazio, Gerda, Monika, Anja, Mary, Goekhan, Vanessa, Marcela, Paul, Rafael, Christiane, Christian, André, Rolande, Bruno, Roberto, Claudia, Sandra, Max, Harriet, Phidias, Sami, Serge, Stefano, Nhu, Mike, Stela, Frank, Aude, Bertrand, Elodie, Alice, Louis, Christine, Salwa, Raphael, Julie, Bernadette, Benoit, Sylvain, Perrine, Chantal, Pierre-Alain, David, Victoria, Kathia, Sacha, Catherine, Guy, Nicolas, Adriani, Nathalie, Mariana, Alexia for being our generous donors. All those fresh starts could not have emerged without your faithful and constant support.
We love to see that some of you regularly think about our association on a monthly or yearly basis. Lizandra, Stefano, Peter and Gerda, we cherish your trust and loyalty over the years. Same goes for Immo Plus SA, who on top of that, organised a team meeting sharing the goals and projects of Association Leon with their employees.
Special thanks to Daniel, Andres, Bernadette, Peter, Adriani, Lionel, Nicolas & Fanny for including Association Leon in their "present list" when celebrating an important date. A simple action that has a powerful impact on Association Leon.
In 2014, we ran a sportive campaign "Ride, Run and Party" that many of you attended. We thank Ezequiel, Andres, Matias, Nicolas, Tobias, Ignacio, Ivan, TC Bussigny, Paul, Lionel, Patrick, Phidias, Nicolas, Cyrille, Augustin, George, Vincent, Maia, Léo, Vincent, Patrick, Pierre, Louis, Camille, Sandy, Patricia, Alexandre and Daniel for their valuable participation.
Since a couple of years, the running race "Le Tour du Val de Bagnes" has been a great happening for a group of friends to gather and support Association Leon. Congrats to Ariane, Marc, Alain, Alexandre V., Patrick, Nadia, Boris, Lionel, Alexandre M., Mathias, Marina, Adriani, Olivier, Jeanne-Julie, Phidias, Anne, Vincent, Maria, Sabrina, Lina, Yannick, Lionel and their respective kids who cheered out lout or completed the race wearing Association Leon's colors.
Sometimes there is a whole family teaming up for our association. This is the case of Sabine, Patrick and their daughters, Justine and Laura. With dedication and creativity, they found many ways of raising funds and awareness:
Sabine put together an amazing Zumba masterclass to the profit of Association Léon in Nyon
Justine (10 years) and Laura (12 years) had rainbow loom bracelet sales, garage sales, school presentations etc.
Patrick supports us via the real estate company he's heading – Stunkel Immobilier.
Several SME participated in our Christmas Campaign in 2015 and we are thankful for that: Alain Wolf architect, Stunkel Immobilier, Liaudat SA, Immo Plus SA.
Last December, Christmas cards at CPV Partners benefited Association Leon; a clever way to spread the holiday spirit. We are thankful for that.
We also want to thank professionals who kindly and generously put their skills, know-how, time and resources into Association Leon. Making possible that 100% of donations are allocated to educational projects:
Max from section.d Wien, Austria created our corporate identity and recently our 10th anniversary visual identity.
Isabelle Christinet, Geneva, Switzerland taking care of the association's accounting.
Anne from an-agence.com , Geneva, Switzerland is actually revamping our website.
The Christmas mailing in 2015 could not have been achieved without the volunteering of Laurie who, by the way, was our ambassador working several weeks in Taller de los Niños in San Juan de Lurigancho, Peru.
Perrine has been our link for projects in Cameroun, allowing us to move forward with confidence.
In the past 3 years, Irène is keeping an eye on our projects in Ho Chi Minh, Vietnam with the valuable help of Jean-Marc. We are thankful to have both of them in place as a guarantee of the right use of our resources.
We are 10 Years young and we will keep on giving with YOUR precious help!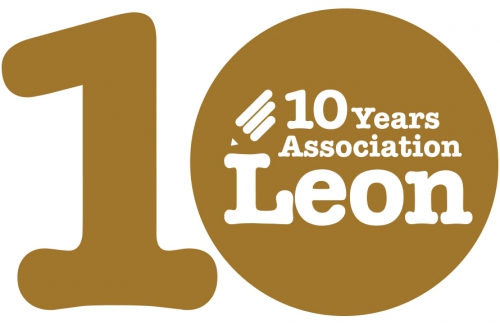 Thursday, 05 January 2017
Reality in Peru for teenage pregnancies is frightening. The latest figures show that 14.6% of all birth are from teenage mothers. These pregnancies - most of them unwanted - lead to social disadvantages such as low education. The new role of those teenage mothers prevents them to attend school.
This is the kind of situation that drives Taller de los Niños crazy! After many investigation and administrative struggle (this is still Peru after all), they started begining of 2016 a special school for teenage mothers. Why is it special: it offers young mothers schedules adapted their new daily routine that allows them to attend class. It offers dedicated theachers that follow each students. Those teachers make sure they start where they left last time, even if the student missed a class.
But you shouldn't think this is all "study if you wish" kind of policy. Rules are strict as there are many young mothers applying for a seat in that "escuela inclusiva". There are precise criterias to be allowed in and an attentive follow up during the school year.
During its first year 47 students could benefit from this first "inclusive school" of Peru; among them 22 young mothers could proudly complete their secondary education. Congratulations to them.
Association Léon supported the project in 2016 and will so the same in 2017. Looking forward to see the constant efforts of those young persons being rewarded.
Nice recap in spanish: link youtube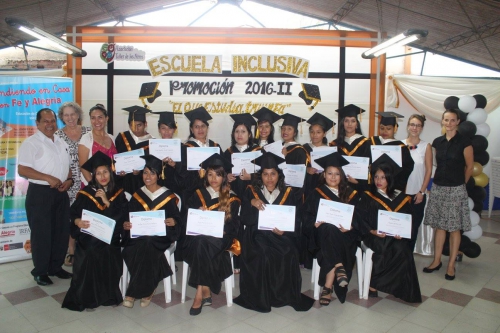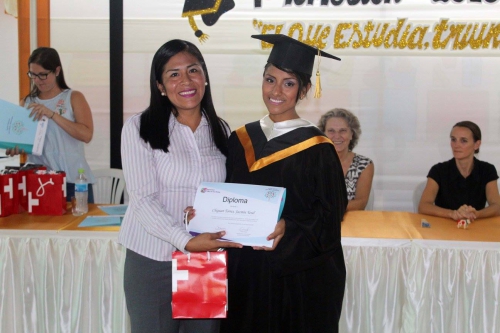 Wednesday, 22 June 2016
Since 2014 we support 14 families in Ho Chi Minh, Vietnam.
We have two ambasadors of Association Léon based there: Irène Bostsarron and Jean-Marc Mignot; they identify needs for us, check the background and give us recomandations. With their help we got in touch with Dat Viet organization, supporting families affected by leprosis.
A kid who's parent have leprosis has very little chance to attend school as he would need to provide for the family budget. Dat Viet spotted 14 families where the kids would need to drop school to care of the family and recommanded them to us. Since 2014 Association Leon proudly - and thanks to the support of our generous donators - fund the school and tuition costs for the kids of these familes, giving them a chance to be just like any other kid, inspite of the severe sickness of their parents.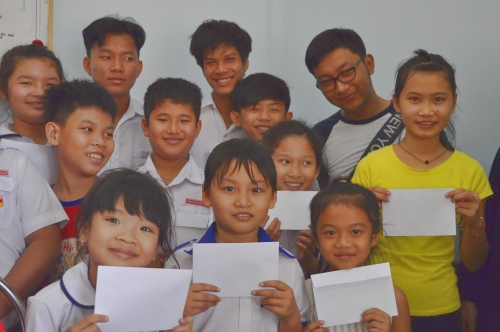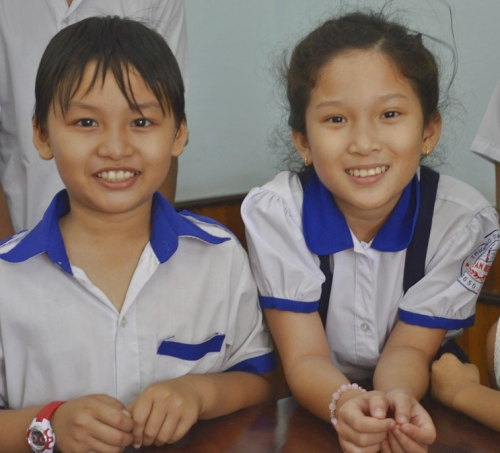 Friday, 17 June 2016
First edition for Association Léon was 2014 with 3 persons.
In 2016 Adriani, Maria, Vincent and Lionel gathered 40 friends, adults and kids, to participate Tour du Val de Bagnes under the colors of our dearest Association. Great initiative!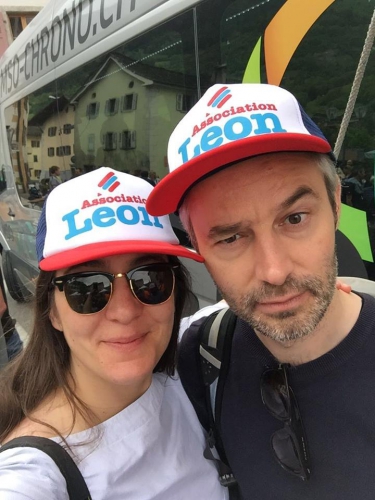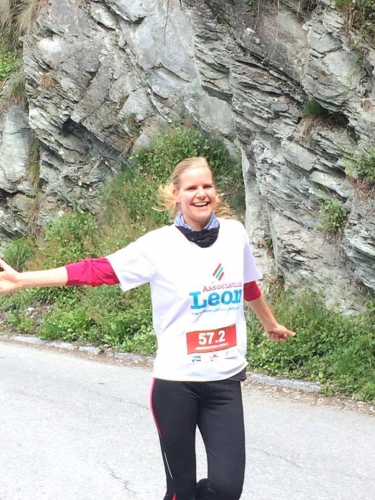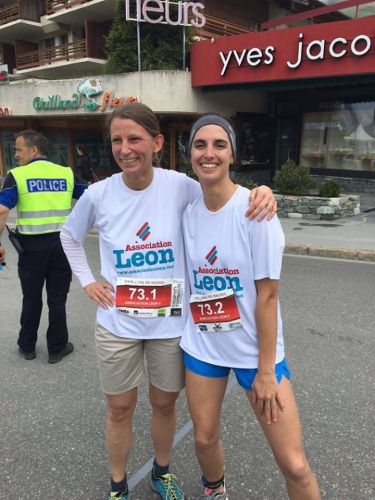 Thursday, 24 March 2016
How wonderful it is when a talented young adult is motivated to learn. Sadly, many kids in remote villages of Peru, in spite of being talented and motivated have to give up this idea as their family doesn't have the means to support them through that.
Luckily, the ONG DB Peru told us about some of those kids and Association Léon is funding their studies as Nurse at Reyna de las Americas nursing school.
So far, with Association Léon's support, Leslie completed her studies of "enfermeria technica" and graduated end of 2015. Bravo Leslie.
In 2016 we decide to go for 2 new students: Jessica and Vanessa, both in the laboratory track.